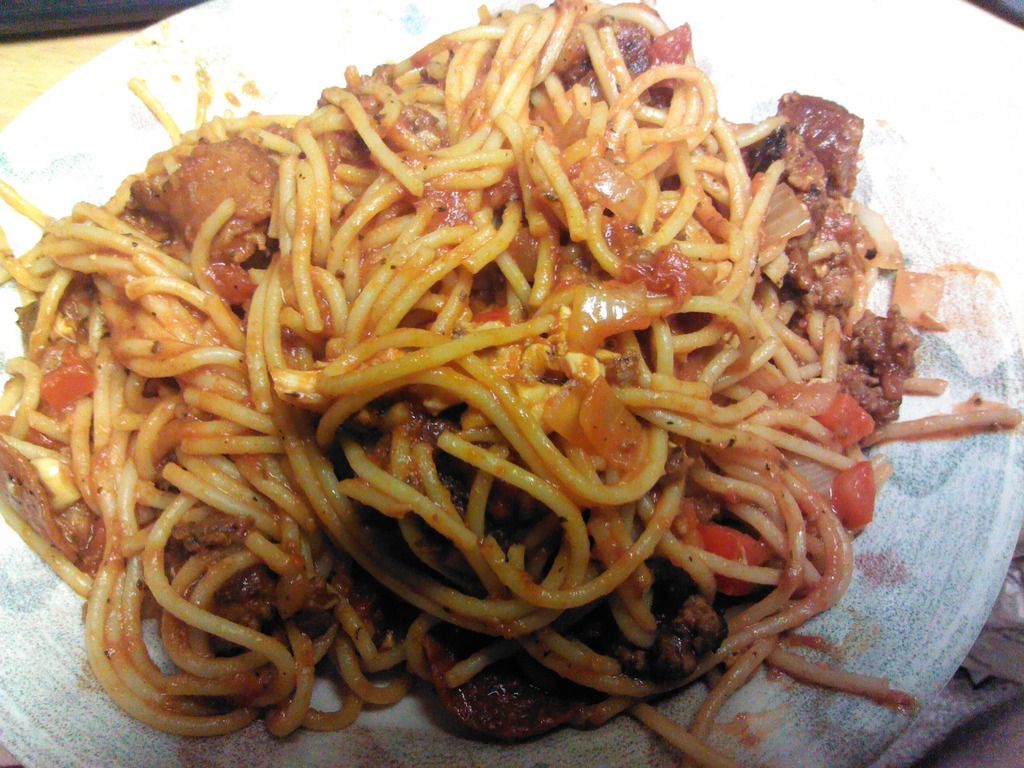 An original creation by me (Robert Mann):

Ingredients:
-2 large chicken pieces. You may use any piece, as you will be chopping it into chunks.
-1 Lb. Chorizo (Mexican)
-1 Lb. Italian Sausage (any heat level you like)
-1 package pepperoni (~8 oz.)
-1 tablespoon each: paprika, basil, turmeric, cayenne (you may exclude if you do not want it,) sea salt, lemon pepper, cumin, marjoram, white pepper, and seasoning salt.
-2 normal jars of marinara (I use Classico Tomato and Basil.)
-1 package thin noodles (spaghetti, fettucini, etc.)

You will also need: 1 large pot, 1 frying pan (minimum,) a strainer, and assorted spoons and spatulas.

Directions:
Cook the meats while boiling water and cooking the noodles. You may prepare the chicken ahead of time, and merely warm it up if you desire. The chicken and Italian sausage should be chunked, the chorizo scrambled into small bits, and the pepperoni fried whole in a pan (I cook the chorizo, sausage, and then pepperoni in the same pan, letting each pick up some of the flavors left behind... and the chorizo leaves enough grease that you won't need more.) The goal is for bite size chunks of the meat when done, and the pepperoni to be starting to crisp up almost like you would expect on a pizza.
The noodles, once done, should be drained. They should be cooked past al dente, as you want a soft noodle for this dish.
Once this is done, mix everything together and stir.

Serve warm. Easily fits with gluten and dairy restricted diets.